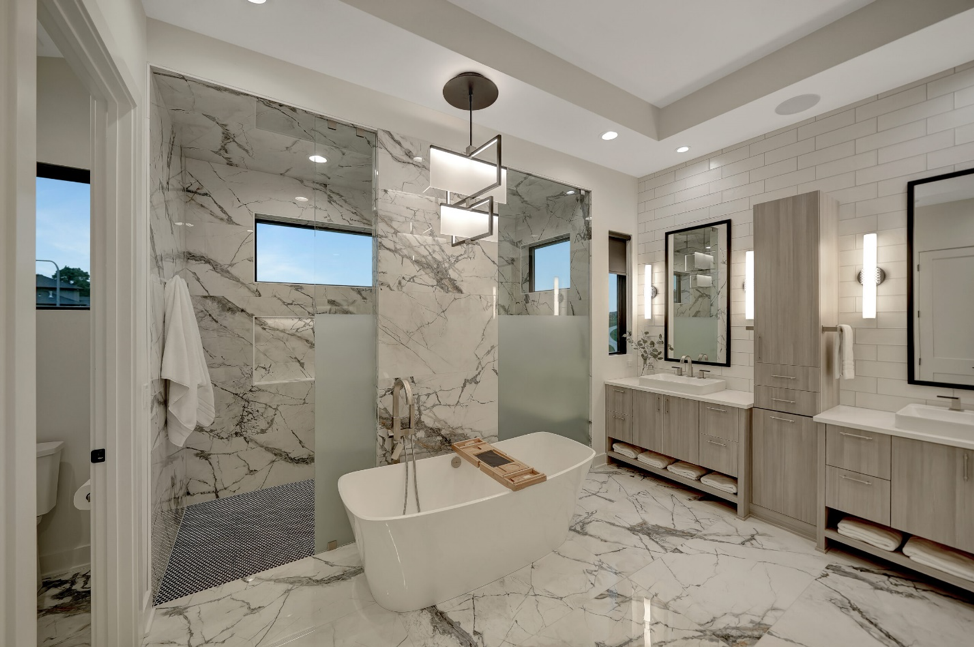 Creating a "hotel at home" experience involves replicating the luxury, comfort, and attention to detail found in a five-star hotel. This can be a delightful way to transform your living space into a daily indulgence. Here are some steps to help you create that luxurious hotel vibe in your own home.
Luxury Hotel at Home: How to Create a Five-Star Experience to Indulge in Daily in the Comfort of Your Home
1. Luxurious Bedding
Invest in high-quality bedding. Look for plush duvets, high thread count sheets, and a variety of pillows to cater to different preferences.
Consider a mattress topper for comfort that makes you want to lounge and linger in on those cozy weekend mornings.
Use a neutral or soft color palette for bedding to create a calming, hotel-like atmosphere.
A soft scent of lavender or eucalyptus can add ambiance and heighten relaxation
2. Elegant Bathroom
Upgrade your bathroom with high-quality finishes, towels, monogrammed slippers and bathrobes.
Introduce a range of luxury bath products, such as fine soaps, shampoos, conditioners, and lotions.
Consider adding a rainfall showerhead or a spa-like bathtub.
3. Ambiance and Lighting
Utilize soft, warm lighting to create a welcoming and relaxing environment. Dimmer switches can be particularly effective.
Scent is a powerful tool. Use scented candles, diffusers, or room sprays with a signature scent that appeals to you.
4. Suite Retreat Decor
Decorate with a few high-quality pieces of furniture, art, and accessories that reflect your personal style.
Keep the space organized and clean, as this helps ease the mind which is a hallmark of luxury hotels.
5. Comfortable Seating Areas
Create a cozy seating area with comfortable chairs or a sofa and plush throw blankets.
Consider a small coffee table or side table to hold books, a coffee cup, or a glass of wine.
6. Entertainment and Relaxation
Install a high-quality sound system or a smart TV for entertainment.
Create a small reading nook or meditation space where you can relax and unwind.
7. Room Service Experience
Set up a mini-bar or coffee/tea station in your bedroom or ensuite bath, complete with a selection of your favorite beverages and snacks.
Use a stylish tray to serve meals or snacks occasionally, mimicking the room service experience.
8. Attention to Detail
Pay attention to the small details: neatly fold towels, make your bed daily, and keep surfaces clean and free of clutter.
Add fresh flowers or potted plants to bring a bit of nature inside.
9. Quality Closet System
A primary suite is not complete without a boutique-style closet system for organizing all of your outfits, shoes, loungewear, and slippers.
10. Personal Wellness Focus
Incorporate elements that promote wellness, like an exercise area, outdoor pool, sensory garden, yoga studio, or even a small sauna. The crackle of an outdoor fire in a fire pit or fireplace provides the perfect backdrop for cool fall nights.
Remember, the key to creating a five-star hotel experience at home is not just about luxury items but also about creating a sense of tranquility, cleanliness, and order. It's about treating yourself to everyday indulgences and taking the time to appreciate and enjoy your living spaces.
Foundry Home Group – Interior Design Omaha, NE
Finding and creating homes for our clients to live and work within which are functional, comfortable, and equally inspiring is what we do best! Our team focuses on helping our clients accomplish their real estate and design goals with one team of experts. Utilizing our collective skill sets allows us to make a greater impact toward improving the quality of our client's lives.
If you are looking to buy a home or sell your home in the Omaha metro area, trust our Omaha realtors at Foundry Home Group. Or, if you're looking for an interior designer in Omaha, we have you covered too! We specialize in new construction, home remodels, furnishings, investment properties, and more!
Contact us today to learn more about Foundry Home Group or click here to view some of our recent projects.